The Inhabitants of Norfolk Island: Late 1808 – 1814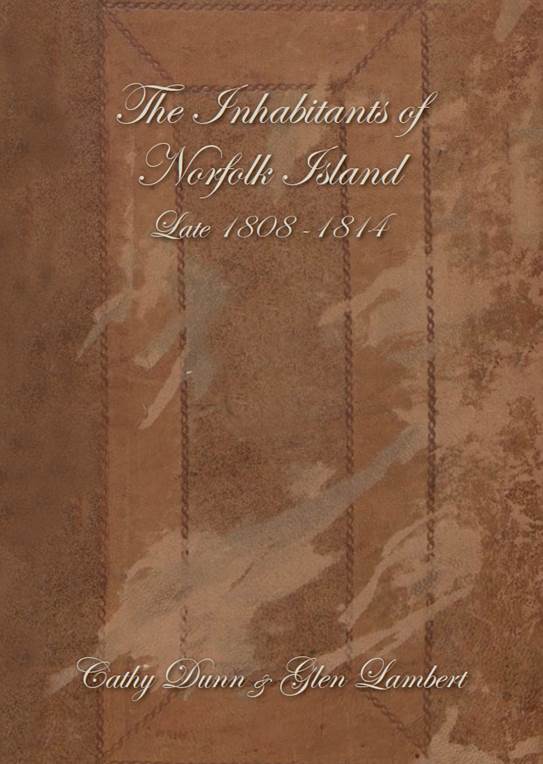 The Inhabitants of Norfolk Island: Late 1808 – 1814″ by historians Cathy Dunn and Glen Lambert covers all known births, deaths, arrivals and departures from Norfolk Island during this period. The inhabitants include civil personnel, settlers, landholders, free persons, sailors, expired convicts, convicts serving their time, natives of New South Wales, Pacific islanders, Soldiers of the NSW Corps and 73rd regiment, along with their wives, defacto partners and children.
What started as a review and biographical report of the passengers aboard the last ship to depart at the closure of Norfolk Island's first settlement in February 1814 expanded as research progressed and has evolved into a detailed study of the inhabitants of Norfolk Island from November 1808 to February 1814.
To avoid perpetuating errors that may have been made in previous works generally only primary records including some recently located historical records were consulted in this project, which has resulted with new people, new movements of people and even new ships visiting Norfolk island.
Featured is a short personal biography of the 407 inhabitants, including their arrival and departure.

This A4 sized book has 62 pages plus some images of original records, cost is $32.00 includes postage within Australia.

The Inhabitants of Norfolk Island: Late 1808 – 1814 is the first joint historical publication by historians Cathy Dunn and Glen Lambert.

Cathy Dunn has published a series of publications on Norfolk Island First Settlement 1788 – 1814, exploring the comparative and sometimes conflicting information derived from the historical record. She has produced numerous outstanding historical datasets for the University of New England. Cathy is a public historian, experienced presenter and holds a Master of History (UNE). She operates both Australian History Research and Heritage Tourism and hosts the Norfolk Island History Lovers Tours.

Glen Lambert has previously worked on colonial history projects including successfully identifying the arrival vessel for each of the first fleet Marines (which had been previously incomplete). He is also involved in ongoing research projects involving the NSW Corps, their arrival vessels, their families and career after the Corps. He is also working on a collection of indexed listings of previously undocumented colonial returns and musters for researchers.